Foreseen (1989)
Foreseen was my first large-scale installation in public space. It was made for an exhibition at the town of Eindhoven, Holland. What struck me at the site was that it was very close to a highway. This highway gave me the opportunity to 'turn my back' to the exhibition and construct my own narration. I also used the metaphor of the highway to pertain to the current speed of information we use to shape our existence. And nonetheless the regard of that speed we never enter the future 'beyond' the past: we'll stay in the present. So past and future are notions seen and developed from the present and always in that way connected.
Foreseeing the future is in that sense a very arbitrary venture. Due to the reterritoralisation of the given environment I appropriated an artwork from a local artist and gave the installation the outlook of a corporate sign. And also because I do not belief in the autonomy but more in the heteronomy of art I appropriated an art piece from a local artist to disseminate my work. Spotlights connected to a time clock in the evenings and nights lighted up the work. It kind of established an in-between the 'real' world and an artistic gesture. For that same reason I used the typeface Eurostyle because I like its simplicity and ambiguity.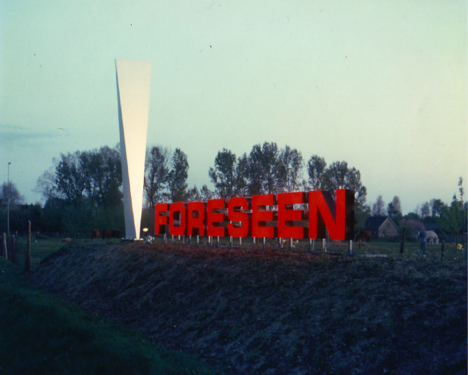 Specifications
Dimensions: 12m. by 1.10m. Material: Aluminium boxletters, Chainlight system and spotlight activated by timeclock, appropriated art work, high quality acrylate.


Exhibited
: AIR, Amsterdam, Holland (1990)